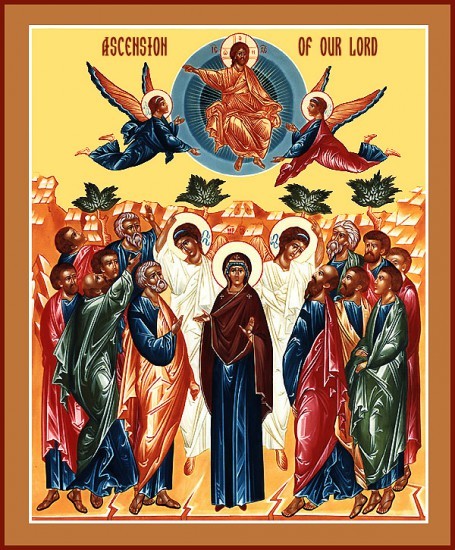 Welcome
The Church's doors are open to everyone. Anyone may come and pray with us, celebrate with us, and participate in our parish family's events and activities.
First-time visitors are welcome to come for any of the services listed on the church calendar and are invited to contact Fr. Christopher if they have any questions before or after services.
June 4th Service Hours
Service Times
Please note the service time changes this week.
We will be baptizing Dylan and Chrismating Piroshka.
Orthros 8:45 am
Liturgy 9:45 am
Saints
Memorial Saturday

Today we remember all pious and Orthodox Christians who have fallen asleep in the Lord, and also recall the dread Day of Judgment. May Christ our God be merciful to them, and to us. Two Epistles (Acts 28:1-31, I Thess. 4:13-17) and two Gospels (JN 21:14-25, JN 5:24-30) are appointed to be read at…

Martyr Lucillian and those who suffered with him at Byzantium

Saint Lucillian was a pagan priest during the reign of the Roman emperor Aurelian (270-275). In his old age he became persuaded of the falseness of the pagan religion, and with all his heart he turned to the faith in Christ the Savior, and was baptized. Under the influence of his preaching many…

Translation of the relics of slain Crown Prince Demetrius of Moscow

The Tsarevich Saint Demetrius, murdered on May 15, 1591, was glorified in the year 1606 "to stop lying lips and blind unbelieving eyes from saying that the Tsarevich had escaped alive from the hands of the murderers" after the appearance of a pretender, who declared himself to be the…

Hieromartyr Lucian, Bishop of Beauvais, and those with him in France

The Hieromartyr Lucian lived in Rome, and his pagan name was Lucius. He was converted to Christ by the Apostle Peter, and was baptized. After Saint Peter's death, Saint Lucian preached the Gospel in Italy. Saint Dionysius the Areopagite (October 3), a disciple of Saint Paul, arrived in Rome…

Saint Kevin of Glendalough

Saint Kevin (Coemgen) was born in Leinster in the early decades of the sixth century, the age of Saints Columba (June 9), Columbanus of Luxeuil (November 21), Comgall of Bangor (May 10), Finnian of Clonard (December 12), Kieran of Clonmacnoise (September 9), and many other great saints. This holy…
Readings
ST. PAUL'S FIRST LETTER TO THE THESSALONIANS 4:13-17

But we would not have you ignorant, brethren, concerning those who are asleep, that you may not grieve as others do who have no hope. For since we believe that Jesus died and rose again, even so, through Jesus, God will bring with him those who have fallen asleep. For this we declare to you by the word of the Lord, that we who are alive, who are left until the coming of the Lord, shall not precede those who have fallen asleep. For the Lord himself will descend from heaven with a cry of command, with the archangel's call, and with the sound of the trumpet of God. And the dead in Christ will rise first; then we who are alive, who are left, shall be caught up together with them in the clouds to meet the Lord in the air; and so we shall always be with the Lord.

JOHN 21:14-25

At that time, Jesus revealed himself to the disciples after he was raised from the dead. And he said to Simon Peter, "Simon, son of John, do you love me more than these?" He said to him, "Yes, Lord; you know that I love you." He said to him, "Feed my lambs." A second time he said to him, "Simon, son of John, do you love me?" He said to him, "Yes, Lord; you know that I love you." He said to him, "Tend my sheep." He said to him the third time, "Simon, son of John, do you love me?" Peter was grieved because he said to him the third time, "Do you love me?" And he said to him, "Lord, you know everything; you know that I love you." Jesus said to him, "Feed my sheep. Truly, truly, I say to you, when you were young, you girded yourself and walked where you would; but when you are old, you will stretch out your hands, and another will gird you and carry you where you do not wish to go." (This he said to show by what death he was to glorify God.) And after this he said to him, "Follow me." Peter turned and saw following them the disciple whom Jesus loved, who had lain close to his breast at the supper and had said, "Lord, who is it that is going to betray you?" When Peter saw him, he said to Jesus, "Lord, what about this man?" Jesus said to him, "If it is my will that he remain until I come, what is that to you? Follow me!" The saying spread abroad among the brethren that this disciple was not to die; yet Jesus did not say to him that he was not to die, but, "If it is my will that he remain until I come, what is that to you?" This is the disciple who is bearing witness to these things, and who has written these things; and we know that his testimony is true. But there are also many other things which Jesus did; were every one of them to be written, I suppose that the world itself could not contain the books that would be written. Amen.
The Orthodox Church
The Orthodox Church (often called The Eastern Orthodox Church) is the earliest Christian Church, the Church founded by the Lord Jesus Christ and described in the pages of the New Testament. Her history can be traced in unbroken continuity all the way back to Christ and His Twelve Apostles. For twenty centuries, she has continued in her undiminished and unaltered faith and practice.Today her apostolic doctrine, worship and structure remain intact.
Read the "Discover Orthodox Christianity" section on the Antiochian Orthodox Christian Archdiocese webpage, and the Nicene Creed, to learn more about Orthodoxy.
Address & Services
We are located at 96 Dunbar Rd S, Waterloo, ON N2L 2E5
What To Expect
Visitors will notice that the congregation actively participates in services by crossing themselves, standing, bowing, kneeling, reciting traditional prayers together, and singing. Don't be intimidated – no one expects you to know what these acts and symbols mean or when you should do them. There are spiral-bound service books in the hallway (the narthex) leading into the main part of the church (the nave) that will guide you through the service.
Regular Services
Sunday
Orthros 9 a.m.
Divine Liturgy 10 a.m.
Saturday
Great Vespers 6 p.m.
Get In Touch
Send us a message or reach out to us directly.
Contact
Father Christopher Rigden-Briscall, Pastor
96 Dunbar Rd S, Waterloo, ON
Phone: 519-807-2986

"This, then, is the aim of the Liturgy: that we should return to the world with the doors of our perceptions cleansed. We should return to the world after the Liturgy, seeing Christ in every human person, especially in those who suffer. In the words of Father Alexander Schmemann, the Christian is the one who wherever he or she looks, everywhere sees Christ and rejoices in Him. We are to go out, then, from the Liturgy and see Christ everywhere."